3100004
-
Introduction to Soils and Plant Growth
17974

Course Description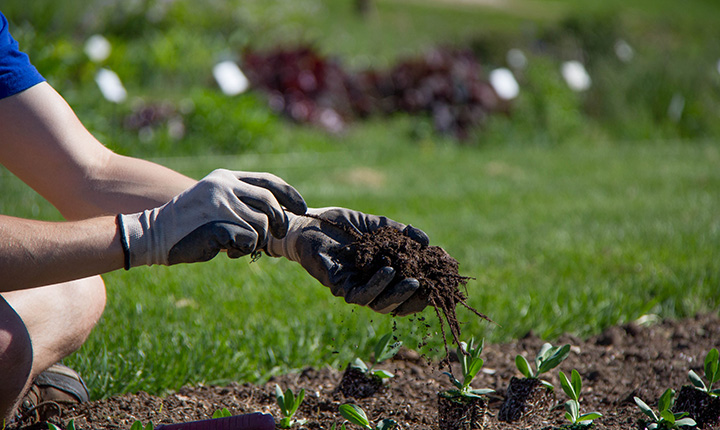 An overview of soil compositions and plant nutrition for plant growth and development is critical for horticulturalists and landscape managers. Students will learn about many different soil properties and how to take that knowledge and apply it to real life situations. Students will also be able to apply information from this course to solve and prevent problems found in the landscaped environment.
Designed For
Landscape practitioners and gardeners wishing to gain an understanding of soils and to develop best management practices.
Learning Outcomes
Upon successful completion of this course, students will be able to:
Examine soil formation and analyze the main factors influencing soil formation
Distinguish and compare soil physical properties that can impact plant growth in landscapes
Identify systems of water movement and flow in the landscape and determine how that relates to soil health and ultimately plant health
Utilize an understanding of soil organisms to develop productive landscapes and identify the importance of organic matter to soils and plant growth.
Investigate the process of composting and identify how composting will impact and contribute to soil management.
Distinguish how nutrients are stored and released from soils and investigate how pH impacts soil and its ability to support plant growth
Identify essential plant nutrients and calculate the amount of fertilizer required by different plants for best growth results
Create helpful and effective methods of taking soil and plant tissue samples
Compare and choose growing media that will have the desired properties to support and encourage plant growth
Course Topics
Soil Formation and Classification
Physical Soil Properties
Soil Water
Soil Life and Organic Matter
Composting
Soil Chemistry
Soil Fertility
Essential Plant Nutrient Sources, Functions and Deficiency/Toxicity Symptoms
Nutrient Transformations of the Three Major Macronutrients
Testing Soil, Plant Tissue and Water
Fertilizers
Media, Container Production and Hydroponics
Additional Requirements
This course is a required core course within The Horticulturalist Certificate.
Assessment
| | |
| --- | --- |
| Assessment | Weight |
| Introduction | 5% |
| Online Discussions | 10% |
| Assignments (2) | 30% (15% each) |
| Quizzes (3) | 45% (15% each) |
| Group Assignment | 5% |
| Soil Analysis | 5% |
Grading scheme is subject to change.
Applies Towards the Following Certificates