1100017
-
Geographical Epidemiology
18282

Course Description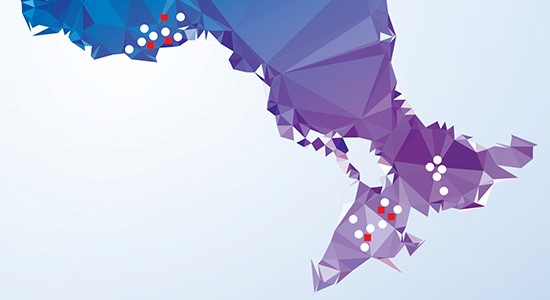 Gain a practical and comprehensive overview of geographical epidemiology. You will be introduced to the notions of spatial data, epidemiology and map-making, with an emphasis on spatial statistical methods and their application in public health, epidemiology, veterinary science and medical geography. RStudio and R software, open and free statistical analytical software, will be used in this course.
This course is designed for public health practitioners and researchers, students and faculty from disciplines such as veterinary epidemiology, biostatistics and medical geography.
Learning Outcomes
Upon successful completion of this course, you will be able to:
Identify the uses of geographical epidemiology
Identify types of spatial data in public health
Associate types of statistical methods and mapping methods associated with data types
Apply R software to analyze and map public health data
Apply SaTScan software to identify geographic clusters in public health data
Apply R and WinBugs/OpenBugs software to investigate geographic risk factors of disease
Identify areas of recent research avenues in geographical epidemiology
In addition to specific learning outcomes stated above, the course aims to instill a general attitude towards critical thinking in statistical and epidemiological science.
Additional Requirements
This graduate level course requires you to have a bachelor's or master's degree with coursework in public health, epidemiology, statistics or equivalent, or equivalent education and work experience.
All course materials are available on the Geographical Epidemiology CourseLink website. CourseLink login information and pre-course activities will be sent to you in advance of the course start date.
You are required to bring a laptop with R/RStudio installed.
Assessment
Open Learning participants will complete a final quiz on the last day of the course.
Graduate students and Open Learning participants taking the course for graduate credit will have additional assignments.
Your Course Outline will include assignment details and due dates.
Note:
Course Instructor:
Co-instructors:
Dr. Julie Horrocks (Mathematics and Statistics)
Dr. Lorna Deeth (Mathematics and Statistics)
Course Sponsors:
Department of Mathematics and Statistics
Ontario Veterinary College
Technical Requirements
You are responsible for ensuring that your computer system meets the necessary system requirements. Use the browser check tool to ensure your browser settings are compatible and up to date (results will be displayed in a new browser window).
*Course details are subject to change.
Required fields are indicated by .