2200011
-
The Equine Industry
17930

Course Description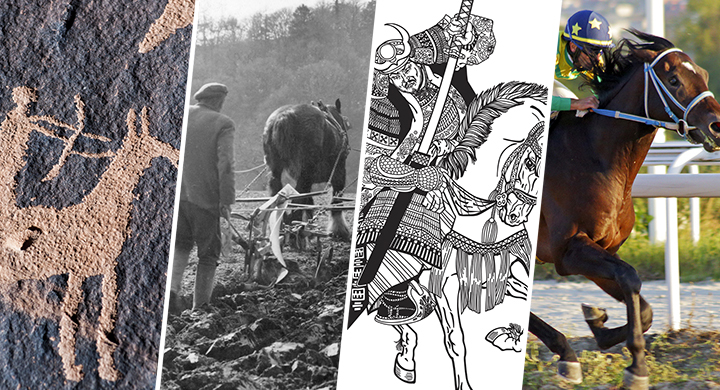 Learn more about the issues and topics that have impacted and continue to impact the equine industry now and into the future. This broader vision of the industry will give you the opportunity to grow beyond the silos of your discipline/industry sector and begin to consider the role of the industry and its larger context.
The goal of this course is to help you understand important concepts about the horse industry and its future, and how they relate to the welfare of horses.
Learning Outcomes
Upon successful completion of this course, you will be able to:
Explain the evolution of the horse and the many branches of the equid species
Discuss the evolution of the hoof of the horse and how domestic housing and sports affects this important structure as part of our management today
Describe the first domestication of the horse, which sets the stage for the further development of the horse in society and its role in work, warfare, sport and companionship
Effectively debate the many challenges facing the equine industry today in both the racing and non-racing industries
Identify current challenges and how they will influence the future of the industry with an eye on a solution-oriented approach
Course Topics
The Equine Industry
Horse Evolution
Domestication of the Horse
Re-Introduction of the Horse to North America
Current and Rare Breeds and Wild Horses
Today's Industry - Racing
Today's Industry - Non-Racing
Issues of Welfare
Special Topics for the Future
Additional Requirements
This course is intended for adult learners who are at least 18 years of age.
There are no prerequisites for this course.
You may take this as an individual course or choose to complete one of our equine certificates or the diploma.*
You do not need access to a horse to participate and be successful in this course.
You can expect to spend 6-10 hours per week to complete the course material, activities, discussions and assignments.
*If you are a certificate or diploma program student, we recommend that you complete Management of the Equine Environment first, or very early in your course of studies. This course is offered every semester.
Assessment
| Assessment Item | Weight |
| --- | --- |
| Graded Discussion Questions (5) | 50% |
| Letter to the Editor | 20% |
| Major Assignment | 30% |
| Total | 100% |
Please note that the course assessment is subject to change.
Sponsoring Partner
Applies Towards the Following Certificates
Technical Requirements
You are responsible for ensuring that your computer system meets the necessary system requirements. Use the browser check tool to ensure your browser settings are compatible and up to date (results will be displayed in a new browser window).
*Course details are subject to change.
Enrol Now - Select a section to enrol in
Required fields are indicated by .