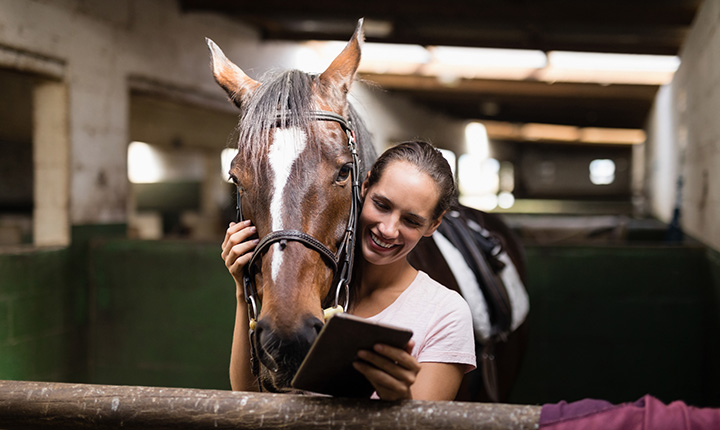 Overview
The Certificate in Equine Business Management is for anyone interested in working in the business and management aspects of the equine industry. You will learn the tools necessary to achieve your goal of a successful equine business.
About the Certificate
You will benefit from our online equine business courses if you want to:
Turn your passion for horses into a business
Research your business idea to be sure it is a viable business for you
Learn the components of a business plan and develop a business plan for your business.
Create budgets and set-up your financial records.
Read and understand financial reports and how they can help your business succeed.
Develop a marketing plan which includes traditional, web-based and social media strategies.
Build and/or set-up your facility and property to maximize the health and welfare of horses in your care
Learn to write professional communications
Plan well attended and well run equine events
Learn to write for equine journals and the web
Examine bio-security issues and risk management of your equine operation and events.
Program Requirements
In order to obtain the Certificate in Equine Business Management, you must complete the five required courses and one of the eligible electives. It is recommended students begin with Management of the Equine Environment.
If you currently hold the Diploma in Equine Studies, Equine Science Certificate or the Equine Welfare Certificate please contact Open Learning and Education Support to clarify your certificate requirements. There are restrictions on counting courses in more than one certificate or diploma program and we want to be sure you plan your course of study to accommodate any restrictions.
Admission Requirements
Students must either be at least 18 years of age, or have completed Grade 12 or equivalent in order to register for courses in the Certificate in Equine Business Management.
The equine science and business courses are open learning continuing education courses and you do not have to apply and be accepted into the certificate program to take one of the courses.
Careers
The Certificate in Equine Business Management prepares you to start-up and manage your own business, or become a manager of an equine business.
There are many different types of businesses working directly with horses or in one of the many support services. Some examples include:
At the Stable: Boarding, Training or Recreational Facility, Barn or Farm Manager, Summer Camp, and Rescue Operation.
As a Service Provider: Horse Trainer, Riding Instructor, Coach, Trail Guide, Farrier, Equine Massage Therapist and Equine Nutritionist.
As a Support Business: Equine Photographer or Artist, Marketing, Web Design, Journalist, and Product Sales.
Additional Information
If you would like additional information on this certificate, please email our main office or phone us at 519-767-5000.