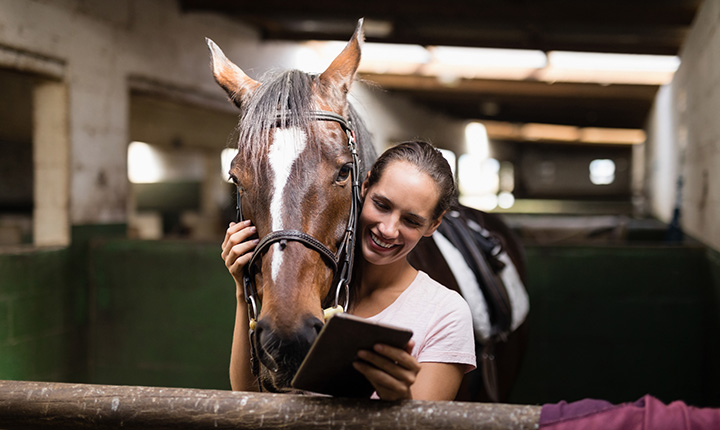 Overview
Turn your passion for horses into a business in the equine industry. The Certificate in Equine Business Management is designed for anyone interested in working in the administrative and management aspects of the equine industry. Learn how to develop marketing and business plans, create budgets and set up financial records, manage operations and establish yourself as a professional.
With a total of six courses to complete, this certificate is the first step in gaining the skillset required for sustainable equine business success.
Learning Outcomes
Upon successful completing of this program, you will be able to:
Research your business idea to be sure it is a viable business for you
Learn the components of a business plan and develop a business plan for your business.
Create budgets and set-up your financial records.
Read and understand financial reports and how they can help your business succeed.
Develop a marketing plan which includes traditional, web-based and social media strategies.
Build and/or set-up your facility and property to maximize the health and welfare of horses in your care
Learn to write professional communications
Plan well attended and well-run equine events
Learn to write for equine journals and the web
Examine bio-security issues and risk management of your equine operation and events.
Careers
Equine Business Manager
Barn or Farm Manager
Horse Trainer
Riding Instructor
Equine Journalist
Details
This program requires the completion of five required courses and one elective. Courses may be taken in any order. We recommend that you begin your studies with Management of the Equine Environment.
Enrolment is on a course-by-course basis and there is no application required. This program is intended for adult learners who are at least 18 years of age or have completed Grade 12 or equivalent. Course availability changes each semester. It is recommended you submit notification requests for each course in the program to be informed when registration opens. Course registration closes six days after the start of the semester. The courses are facilitated by an instructor and all students registered in the course progress through the course content at the same time.
Complete five required courses and one elective course. Request your parchment through the OpenEd Student Portal once all requirements are met.
You can take up to 10 years from the start of your first course to complete and receive the certificate.
The price per course is currently $625. Course prices are subject to change and are not guaranteed. The total cost of the program may vary depending on available discounts* and the length of time to completion.
*There are early bird and alumni tuition discounts available for this program.
Additional Information
If you would like additional information about this program, please contact our Main Office.
Sponsoring Partner