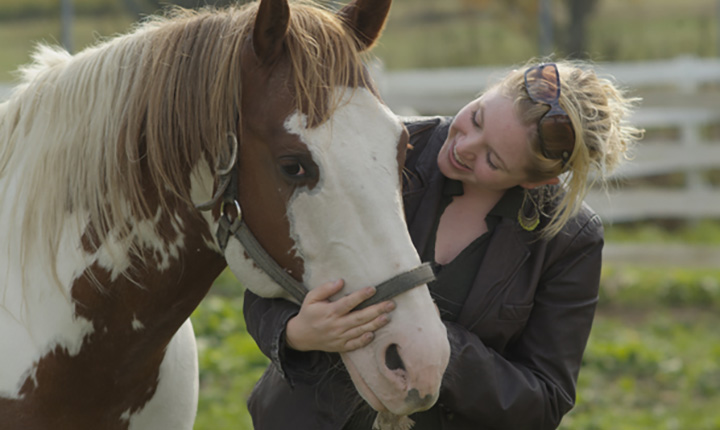 Overview
Discussing equine welfare can be challenging. We have different perspectives and our responses to various issues can often be emotional. This program challenges you to consider welfare from the perspective of the horse. You will use an evidence-based approach to support your views for or against specific issues relating to equine management and gain an in-depth understanding of the Five Freedoms, a core concept in animal welfare. You will examine the science behind what is required to support sound management and welfare practices for horses in Canada and around the globe. The Equine Welfare Certificate will help you discover solutions to the behavior and health problems horses face because of our management practices.
Every week, rain or shine, I ride my horse. Does he know I've taken courses to improve his emotional and physical health? I believe he is genuinely pleased with the changes to his diet (warm, steamed hay), changes to his health (daily health checks) and consideration for his welfare and behaviour. Thank you Equine Guelph for this amazing journey of learning.
Learning Outcomes
Students in the Equine Welfare Certificate program will:
Explore past and current practices from a welfare perspective examining regulatory structures and laws in various equine industries globally.
Develop a high level of understanding of equine behaviour and the abnormal behaviours and management practices which contribute to them and the nutritional requirements of healthy horses by studying research and theory and applying the theory to practice.
Reach a high standard of information literacy, knowing how to find, analyze and combine information from a range of reliable sources and apply that knowledge to the management of horses.
Developed an understanding of the difference between animal legislation, regulation and practice.
Program Requirements
To be eligible to receive the Equine Welfare Certificate students must successfully complete a total of 6 courses. Each course is 12 weeks in length and students should expect to spend 6 - 10 hrs a week per course on their studies.
This program is delivered entirely online and you can participate from anywhere you have access to the internet. There is no requirement to be online at a certain time. The courses are facilitated by an instructor and all students registered in the course progress through the course content at the same time.
If you currently hold the Equine Science Certificate, Diploma in Equine Studies or the Certificate in Equine Business Management offered at the University of Guelph please contact Open Learning and Educational Support to clarify your certificate requirements. There are restrictions on counting courses in more than one certificate or diploma program and we want to be sure you plan your course of study to accommodate any restrictions.
Admission Requirements
The Equine Welfare Certificate is intended for the adult learner 18 years of age or older.
The equine science and business courses at the University of Guelph are open learning continuing education courses and you do not have to apply and be accepted into the certificate program to take one of the courses. There are no international student fees and we welcome students from around the world to register in our courses.
Additional Information
If you would like additional information on this certificate, please email our main office or phone us at 519-767-5000.
When you have completed all the requirements for this certificate, you can request your parchment through the OpenEd Student Portal.
Program Partners
The Equine Welfare Certificate is offered by the Campbell Centre for the Study of Animal Welfare, Equine Guelph, and Open Learning and Educational Support, at the University of Guelph.
Equine Guelph
Campbell Centre for the Study of Animal Welfare