3101002
-
Soils and Plant Growth
15952684

Course Description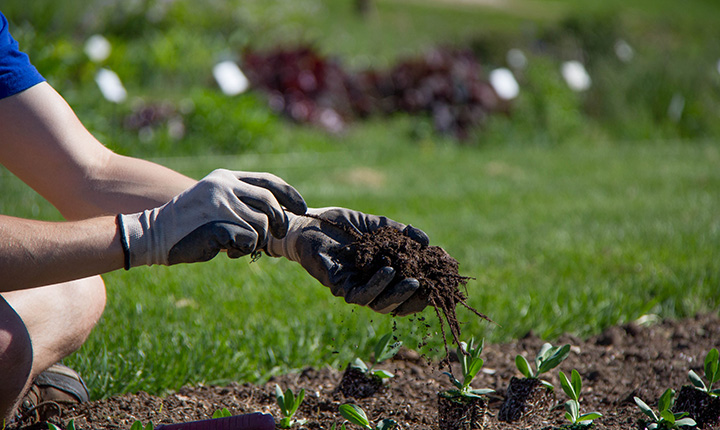 It's important for horticulturists and gardeners to understand how soils impact plant growth.
Gain an overview of plant biology and soil science so you can better understand soil management and grow healthy plants. Learn the fundamentals of plant growth and development as well as the many different properties of soil.
A focus will be placed on the practical application of these topics to real-life horticulture scenarios and landscape design projects.
Learning Outcomes
Upon successful completion of this course, you will be able to:
Explain how photosynthesis and respiration cycles contribute to plant growth and development.
Describe the anatomy of a plant and explain the functions of selected plant parts.
Explain the required nutrients for plants and recommend the best methods for fertilizing plants to promote for growth and maintenance
Discuss the role of water in plant health and soil management
Recall the main physical and chemical properties of soil
Apply knowledge of soils (physical and chemical properties) and methods of soil improvement to improve plant growth
Explain how soil properties impact site drainage
Course Topics
Plant Structure
Photosynthesis and Respiration
Plant Growth
Plant Development
Hormones
Reproduction
Soil Physical Properties
Soil Water
Soil Life
Soil Chemical Properties
Plant Nutrition
Fertility and Fertilizers
Additional Requirements
This course is intended for adult learners who are at least 18 years of age.
There are no prerequisites for this course.
You can expect to spend 8 to 12 hours per week to complete the course content, readings, activities, discussions and assignments.
Soils and Plant Growth is a required course in the Horticulture Certificate/Diploma and an elective in the Landscape Design Certificate/Diploma.
Do not enrol in this course if you have successfully completed Introduction to Soils and Plant Growth (310-0004).
Assessment
| Assessment Item | Weight |
| --- | --- |
| Quizzes | 30% |
| Introduction | 5% |
| Article #1 | 20% |
| Article #2 | 20% |
| Discussion Topics | 10% |
| Plant Assessment | 15% |
| Total | 100% |
Please note that the course assessment is subject to change.
Applies Towards the Following Certificates
Technical Requirements
You are responsible for ensuring that your computer system meets the necessary system requirements. Use the browser check tool to ensure your browser settings are compatible and up to date (results will be displayed in a new browser window).
*Course details are subject to change.
Enrol Now - Select a section to enrol in
Required fields are indicated by .