3101016
-
Greenhouse Crop Production
15952773

Course Description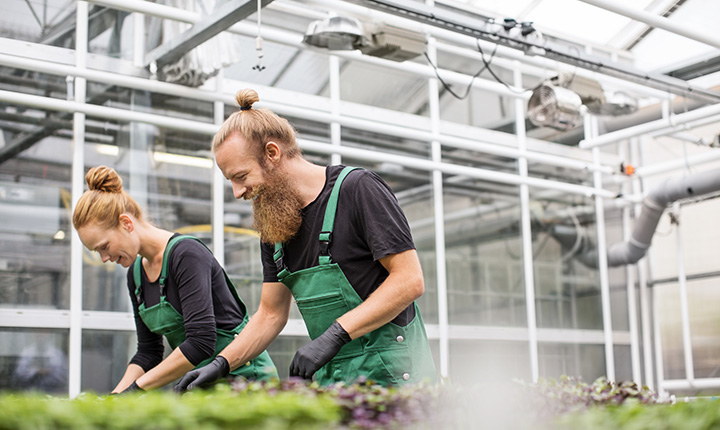 Explore the trends, technical and logistical challenges, and emerging industry innovations of greenhouse crop production. Master the propagational, cultural and environmental requirements of the major commercial crops—including vegetables, floriculture and specialty crops—and study the principles of photoperiod and graphical tracking, as they relate to certain crops.
By the end of this course, you should be able to not only define the cultural and post-harvest requirements of specific crops, but also apply these practices to other crops you intend to work with.
Learning Outcomes
Upon successful completion of this course, you will be able to:
Identify the history, origin, economic importance and factors affecting the growth of major and minor commercial crops available on the market
Outline the cultural requirements, propagation techniques, production practices and principles as part of the steps involved in growing greenhouse crops
Describe the botany, plant physiology, and methods of plant height control of commercially grown crops
Determine appropriate quantities and requirements of nutrients, growing media, plant growth regulators and other materials to grow and maintain greenhouse crops
Identify major pests, diseases and plant disorders of several commercially grown greenhouse crops
Assess plant health, conduct analytical testing and select the best strategy to make improvements
Determine post-harvest quality and select the appropriate method of post-harvest
Course Topics
Principles of Plant Science and Greenhouse Production
Principles of Potted Crop Production

Easter Lily, Poinsettia, Mini-Rose, and Kalanchoe Production

Principles of Cut Crop Production

Tulip, Chrysanthemum, and Gerbera Production

Principles of Greenhouse Vegetable Production

Tomato, Cucumber, and Pepper Production
Additional Requirements
This course is intended for adult learners who are at least 18 years of age.
There are no prerequisites for this course
You can expect to spend 8 to 12 hours per week to complete the course content, readings, activities, discussions and assignments.
Greenhouse Management and Greenhouse Crop Production complete an area of focus in Greenhouse Production.
Do not enrol in this course if you have successfully completed Commercial Greenhouse Crop Production (310-0015).
Assessment
| Assessment Item | Weight |
| --- | --- |
| Discussions (2) | 10% |
| Quizzes (3) | 30% |
| Assignments (3) | 60% |
| Total | 100% |
Please note that the course assessment is subject to change.
Applies Towards the Following Certificates
Technical Requirements
You are responsible for ensuring that your computer system meets the necessary system requirements. Use the browser check tool to ensure your browser settings are compatible and up to date (results will be displayed in a new browser window).
*Course details are subject to change.
Required fields are indicated by .