2200002
-
Equine Behaviour
17912

Course Description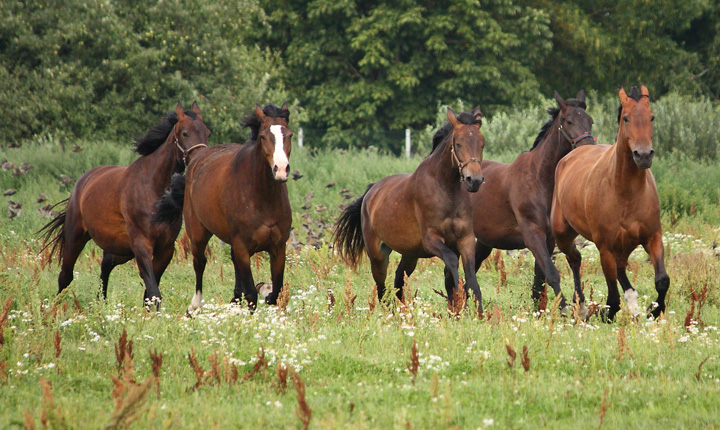 Enhance the welfare of horses in your care by learning the language of horses. Equine Behaviour encourages you to understand a horse's behaviour through the eyes of the horse, adapting the horse's environment and handling through investigating horse perception and learning. Examining equine behaviour research and practice are part of this course designed to improve the health and welfare of horses in your care.
Course topics include horse perception, learning, social hierarchies and play, communication and body care, ingestive and elimination behaviours, interaction of stallions, mares and foals, locomotion, training and handling, transporting horses and unwelcome behaviours (stereotypie).
Designed For:
This course is designed for horse owners, trainers, grooms, breeders, stable employees, veterinary technicians, industry representatives, coaches and individuals with an interest in horses.
Learning Outcomes
The goal of this course is to enable you to understand important concepts of equine behaviour and how they relate to the care and welfare of horses.
By the end of the course you should be able to:
Explain key aspects of horse behaviour and the impact of various equine management practices on their health and welfare.
Recognize the perception capabilities of the horse.
Outline and monitor a prevention program for horses, based on the perception capabilities of horses and the management factors that impact horse perception.
Identify common behaviours of horses and the methods available to prevent and/or manage these problems.
Examine and discuss elements of horse communication between horses and between humans and horses.
Discuss social and play behaviours of the horse as they relate to housing, handling and training.
Critically assess new information based on scientific research.
Discuss ingestive and eliminative behaviours and how they may impact the horse's health.
Critically assess your own management program for mares, foals and stallions in your care as it relates to behaviour of each.
Differentiate between unwelcome behaviours and their causes.
Course Topics
Introduction to Behaviour
Perception
Behaviour and the Brain
How Horses Learn
Social & Play, Communication
Body Care
Ingestive and Eliminative Behaviours
Reproductive Behaviour
Stereotypies
Locomotion
Training
Handling and Transporting
Welfare
Additional Requirements
Completion of Grade 12 (or equivalent) or be at least 18 years of age.
Assessment
| | | |
| --- | --- | --- |
| Quizzes | 20% | There will be five online quizzes. Each quiz consists of a number of true or false statements and multiple-choice questions which cover the weekly unit material. |
| Final Quiz | 10% | A final quiz will consist of a number of true or false statements and multiple-choice questions which cover the weekly unit material. |
| Minor Assignment | 30% | You will be presented with a choice of two topics either to research an unwanted behaviour or to teach a horse a new behaviour. You will research your topic and complete a two-page paper based on your findings, analysis and reflection. |
| Major Assignment | 40% | You will choose between four different topics, research and write a three to five-page paper based on your findings, analysis and reflection. |
Sponsors
Equine Guelph
Open Learning and Educational Support
Note:
You can expect to spend 6 - 10 hours per week to complete the course material, discussions and assignments.
There are optional activities and readings built into the course content which allow you to explore additional topics in equine behaviour. The additional topics are popular among the behaviour students and we would like you to know participating in optional activities increases the amount of time per week you would need to commit to the course.
Do you have more questions? Visit our program page Frequently Asked Questions or send us your question by completing the Request Information contact form.
Applies Towards the Following Certificates
Enrol Now - Select a section to enrol in