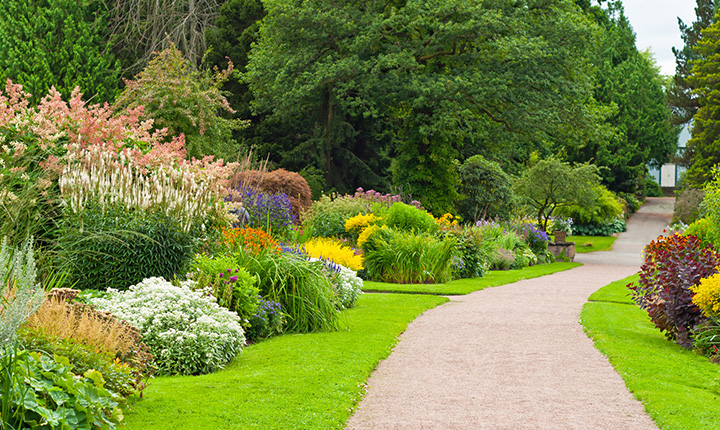 Overview
You spend a lot of your time outdoors and enjoy the challenges of seasonal work. You're involved in landscaping projects, yard maintenance and making outdoor spaces functional and beautiful. But perhaps you're looking for a little inspiration. You're great at what you do but maybe you're looking to delegate a bit more or even start your own business. Or it's possible that you'd like to get involved in the landscape design side of things.
At the University of Guelph, our new Landscape Design Certificate has been created for you. The you that wants to make a difference and turn your skills into a satisfying full-time career. Newly developed and upgraded for today's job market, our landscape design certificate will give you a solid foundation to take your skills to another level. Courses are taught by industry experts and are delivered entirely online so you can enjoy the convenience and flexibility of studying at a time and place that works for you, from anywhere in the world.
With a total of five online courses to complete, this program provides you with the fundamentals of landscape design.
Learning Outcomes
Upon successful completion of this program, you will be able to:
Apply landscape design principles and strategies to the creation, maintenance and management of landscape projects.
Produce landscape designs using hand-drawing techniques and/or computer tools that effectively communicate ideas, plans and intentions to clients or contractors.
Recommend appropriate plant material, building materials, landscape products and maintenance criteria for landscape plans.
Evaluate the environmental impact of a proposed site development taking into consideration the design, materials and products as well as the surrounding area.
Assess site conditions and identify design requirements needed to enhance an existing landscape design or address landscape challenges.
Promote and practice environmental responsibility in all aspects of landscape design.
Communicate effectively and professionally with the industry through written and electronic communication.
Careers
Landscape Designer
Landscape Construction
Landscape Gardener
Details
The program requires the completion of four foundational courses and one elective course. Courses may be taken in any order. We recommend that you begin your studies with the required foundational courses.
Enrolment is on a course-by-course basis and there is no application required. This program is intended for adult learners who are at least 18 years of age. Course availability changes each semester. It is recommended you submit notification requests for each course in the program to be informed when registration opens. Course registration closes six days after the start of the semester.
Complete four required courses and one elective course. Request your parchment through the OpenEd Student Portal once all requirements are met.
You have a maximum 5 years to complete the required courses toward a particular certificate and/or diploma. The maximum number of years is presently under review and will be posted on the website once confirmed.
The price per course is currently $595. Course prices are subject to change and are not guaranteed. The total cost of the program may vary depending on available discounts* and the length of time to completion.
*There are early bird and alumni tuition discounts available for this program.
Additional Information
When you have completed all the requirements for this certificate, you can request your parchment through the OpenEd Student Portal.